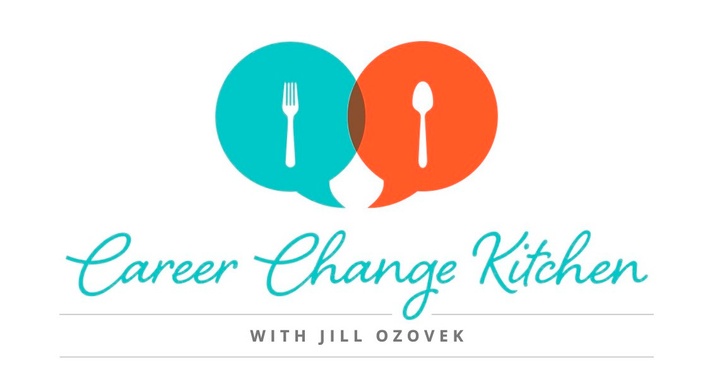 The Career Change Kitchen
A Comprehensive Step-By-Step Guide To Changing Your Career & Job Happiness
Ready to feel energized by your next career move?
The Career Change Kitchen is an online, guided course that teaches you to take control of your career. You'll figure out your next career move, down to the industry, field or role, and you'll get a step-by-step action plan to GET in the role.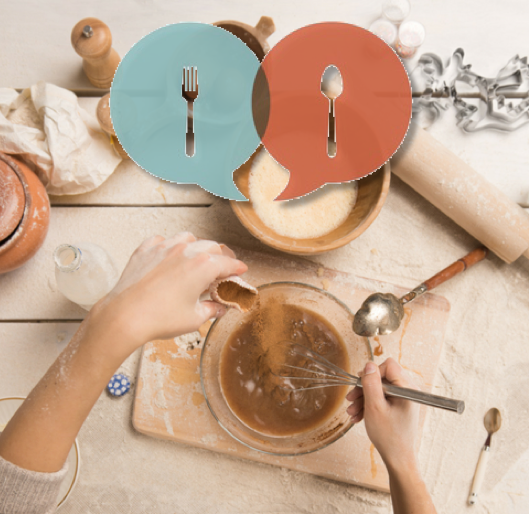 •
Reduced stress around picking the 'wrong job'

• Positive outlook – no more dread surrounding your career and no more stopping halfway through the process

• Clear understanding of what you do well and how it can apply to a new role

• A personalized plan so you know exactly what to do and when to reach your goals
WHAT WILL IT COST YOU IF YOU PUT OFF CHANGING YOUR CAREER FOR ONE MORE YEAR? WHAT ABOUT ONE MORE MONTH?
And I'm not just talking the lost money here, folks. I'm also talking costs to your health, your family life, your well-being and so much more.
COSTS TO STAYING PUT:
health
creativity
impact you have
time with family
free time
enjoying your free time
wellness/exercising
increased health care costs (e.g. more trips to the chiropractor, etc)
I know the worries surrounding career change:
What if I do all this work and I still don't have an answer?

What if I'm one of those people who's doomed to have boring work no matter what?

What if I don't have something I like doing and am good at?

What if I have to take a massive paycut and give up everything I love doing?

What if I'm not good at anything else?
What if I can't make the time for this and it fades?
I've heard it all and I've seen it all. Heck, I've experienced it myself!
TONS of resistance, sleepless nights, thoughts of "Well, I can just stay in event planning, it's easy, I know peeps, I'm good at it". There was a time when I was building my business on the side while working full time that I literally did nothing with my biz for 2+ months, minus the stray blog post here or there.
The point is, YOU ARE NOT ALONE. No no, my friend. You are part of a rather large group of people (70%+ of workers) who are disengaged from their work and they're just punchin' the proverbial (or real) clock. Of those 70%, very few DO something about it. And you're reading this because you're one of those few who intend to do something about it. Congrats on taking the first step!
You may be sitting there thinking, "Well, I've tried to change my career before and it was a major flop. So why would I even think about trying again?" A couple of things on that:
FORGIVE YOURSELF for that! I do! There could be any number of reasons it didn't work out last time. And you didn't have the Career Change Kitchen helpin' you out!
REFRAME IT: Maybe those past attempts needed to happen to get you where you are right now, reading this very page. Reframe the 'failure' you're remembering as a learning experience. Life isn't always a linear, upward spiral staircase. As Sheryl Sandberg said in her groundbreaking book "Lean In," it's a jungle gym.
So, what else do you need to take the leap and actually get started on changing your career using the Career Change Kitchen Online Course?
If you're shaking your head vigorously about all the fears I've listed here, then you're in the right place. I can help.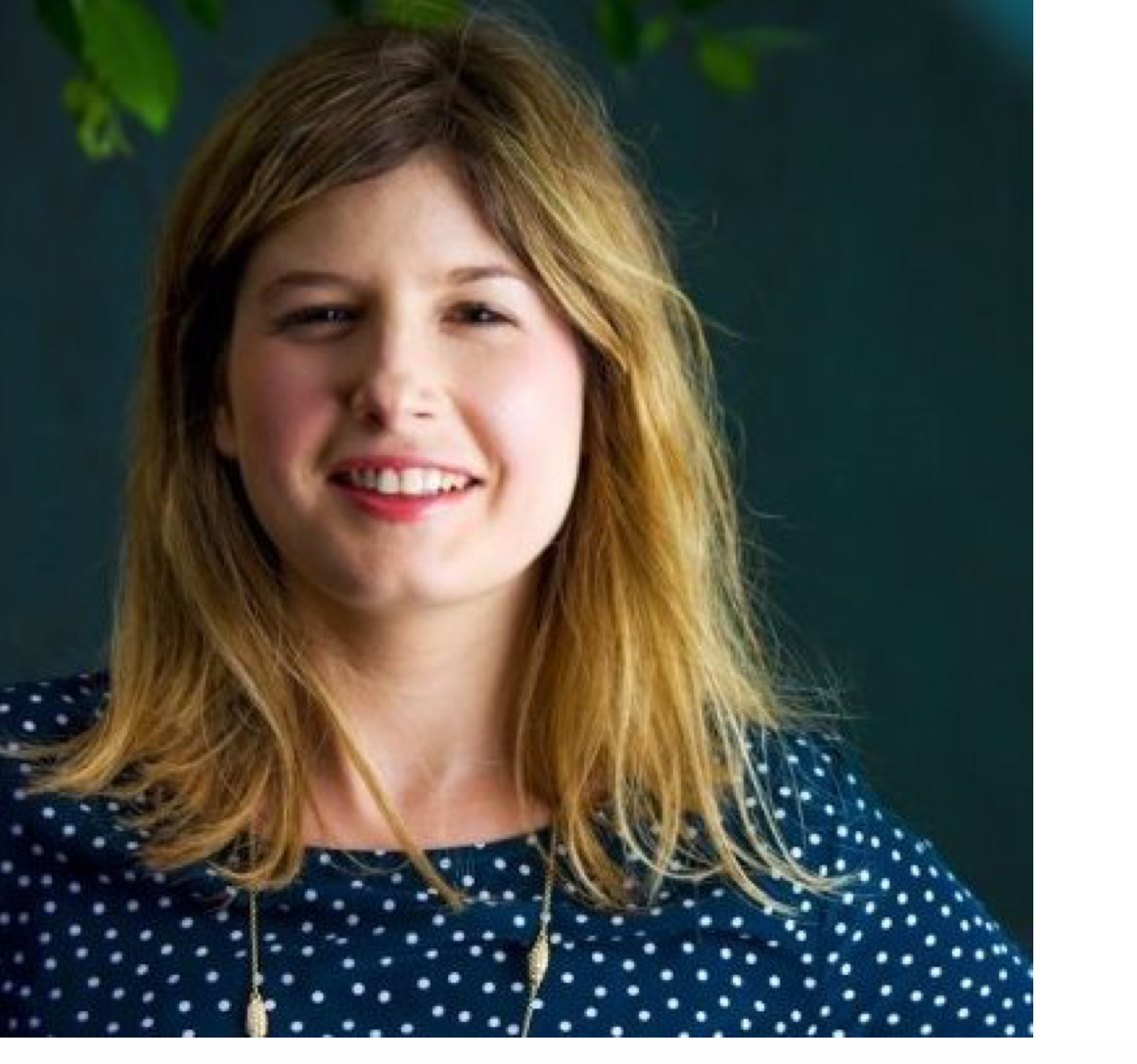 It wasn't so long ago that I was right there with you. Amongst my peers, I was the one who had it 'figured out' at age 26. I had been working in event management for financial services, and before the financial crash of 2008, it was 'the place to be in NYC." In fact, the year before during a random game we played at a girls' reunion weekend, the girls unanimously voted me "first to be a millionaire." I think that was one of the first moments I felt how unaligned things were for me, but I pushed them down deep and tried to avoid them and continued throughout my day to day. Fast forward a couple of years and I was completely miserable- and had the rosacea and IBS to prove it.

I've learned so much as I've bumbled around this career mumbo jumbo for myself (and helping my clients, students and old colleagues) that my end goal is to share all that know how and perspective with you- and from here the Career Change Kitchen was born!
Remember this: you have what it takes to get in control of your career and feel truly aligned with what you do and where you go 5 days a week. In other words, you're at the cause, not the effect of your life and my goal is to help you see that, help you detach yourself from preconceived notions of what you 'can' and 'can't do' and show you exactly how you can figure out your next career move and be moving fearlessly and with momentum toward that role.
Here's what people who have already taken the program have to say: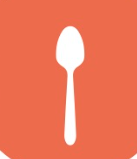 "The Career Change Kitchen laid out a clear path, with easy-to-use exercises and hard questions, for professional definition and possible transformation. Each lesson built on the one prior and made clear personal areas that needed more thought and work. I realized that I have been avoiding the "unknown" and, in order to change and grow, need to face that head on. The worksheets and guidance from Jill—in the videos, live Q&A, and one-on-one interaction—helped me to keep moving."
HOLLY U. | CAREER CHANGE KITCHEN STUDENT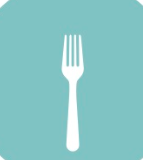 "If you are ready for a change but are not sure how to go about doing it, the Career Change Kitchen is for you. Jill's thorough and methodical approach teaches not just how to do all the steps involved in changing your career, but why they matter. This context, coupled with Jill's calming presence, really helps one properly live each stage of the process and resist the urge to skip ahead to the end. It makes for a very rewarding experience!"
TARYN B. | CAREER CHANGE KITCHEN STUDENT
How it works...
The Career Change Kitchen is a video-based online course where all the materials are contained in a members-only website. When you enroll today, you'll receive INSTANT access to the pre-course materials and will receive access to the entire curriculum on January 10th.
You'll get access to the entire course on whatever internet enabled device you choose - computer, laptop, tablet, smartphone, etc. There are two courses of action – the 60 day Roadmap and the 90 Day Roadmap. You will be able to review them in detail and choose the roadmap that works best for your goals and other life priorities.
In addition, you'll be receiving emails throughout the first month of the course with inspiration, reminders and great resources to keep you on track and to maximize the results Cooking Space in the Kitchen. We've given you ALL you need to finish the course, but remember- participation is where the results are!
Here's What's Included In The Career Change Kitchen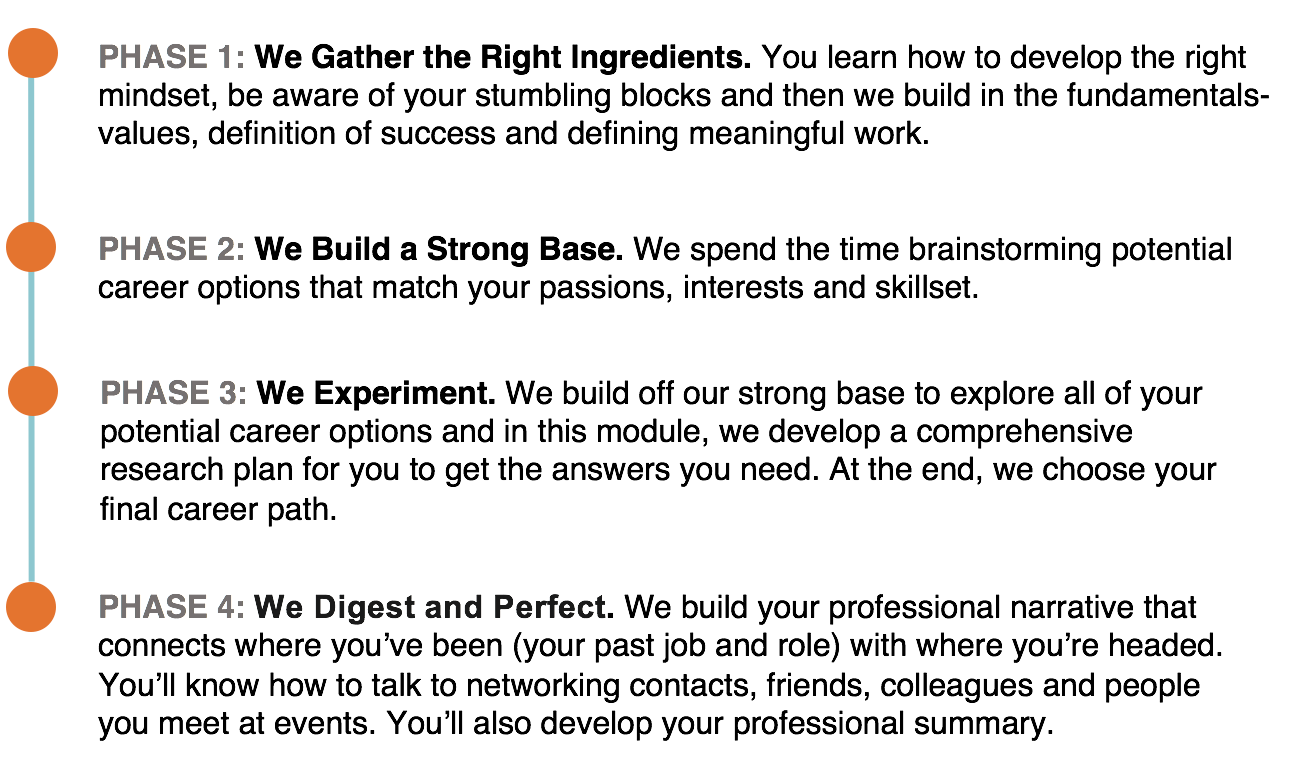 BONUS ITEMS
Regular email #inspo


Bonus content on job search and financing your new career

Comprehensive Resource Library for your career change, mindfulness work, finances and more!

More bonus content will be available on a regular basis

So, Jill, What's the Value of All of this?* I'm glad you asked
4 Video Modules Taking You Through the Career Change Process (Lifetime access): Value $1500

Accompanying Workbooks for each module to keep you on task and making progress: Value $250

You get all this value ($1750+) for

$350.
This course is for you if:
you want to do something about your career malaise once and for all

you are done making excuses for why your work life sucks

you are willing to put in the work to make it a reality

you want to consciously choose your career path and work toward it

you won't let the happenings of life stop you from continuing with this

you're willing to face any resistance you may feel head on and move through it.

you love personal development are are ready to bring it

you've been in the workforce 5-15 years and bring that perspective to the Career Kitchen Chef's Table
This course is not for you if:
you want to dabble in many things or do project based work - this system will NOT work for you (although I want to develop a system soon for that!)

you want fast answers and don't have time to put in 2-4 hours per week into your career change

you do not want to network or meet new people through your career change (and instead want to change careers solely by applying on job boards.)

you're brand new to the workforce (<3-4 years)

you are looking for a resume writing or editing course

you're looking for a 1 on 1 attention (

check out my 1 on 1 offerings if so!)
Your Instructor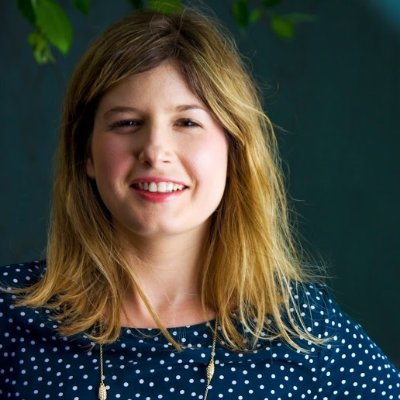 Jill Ozovek (CPC, ACC, ELI-MP) is a Certified Professional Coach who works with millennial women on finding their dream job when all signs point to the impossible. Through highly tailored group work and one-on-one coaching sessions, Jill focuses on helping clients figure out what it is they want to do next with their career, even when they walk into their first session with no earthly idea. She is a big fan of life design and doesn't believe your job or career should take over your life and all of the other amazing parts of it.
As a former hiring manager and managing director of finance at a large event production company, she also has extensive experience with crafting resumes that will get you noticed, writing targeted cover letters to potential employers that clearly show why you're the best fit for the position, using LinkedIn to your advantage and the art and science of networking and interviewing.
For some client success stories, please visit here.
Course Curriculum
Welcome to the Career Change Kitchen!
Available in days
days after you enroll
Module 1: Mindset: Setting Yourself Up for Success in the Career Change Kitchen
Available in days
days after you enroll
Module 2: Building a Strong Base: Dreaming Up Your New Career
Available in days
days after you enroll
Frequently Asked Questions
When does the course start and finish?
The course starts now and never ends! It's a completely self-paced—you decide when you start and when you finish. We do provide 60 and 90 day Roadmaps inside the course so you can stay on track to finish the Kitchen. Choose the one that works best for you.
How long do I have access to the course?
How does lifetime access sound? After enrolling, you have unlimited access to this course for as long as you like - across any and all devices you own.
How many users can use this course?
When you purchase this course, you are purchasing it for your use only.
TERMS AND CONDITIONS
See additional terms and conditions here. TERMS & CONDITIONS. By purchasing this course, you are agreeing to the terms and conditions set forth in this document.